NEWS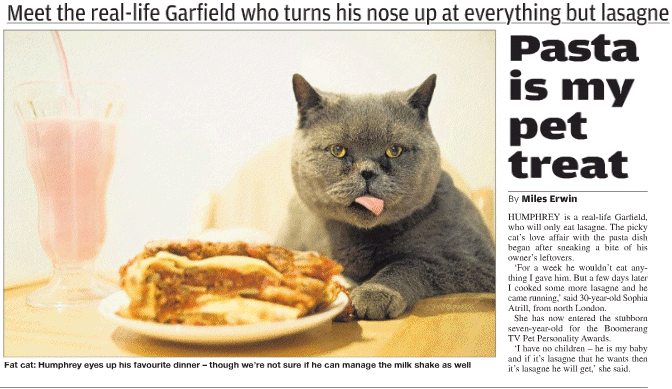 | | |
| --- | --- |
| | |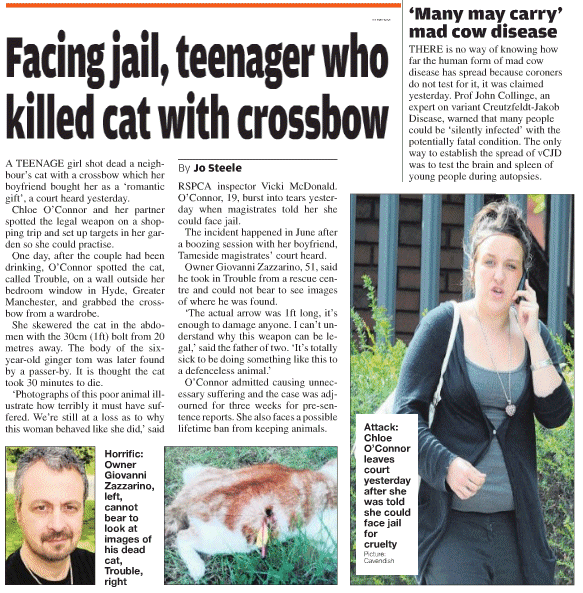 Dear Ed,

I thought perhaps that the metro was displaying a wry sense of humour by telling us that that Chloe O'Connor had got herself into "Trouble" by putting an arrow through a cat,and then in the next column telling us that the spread of mad cow disease is unknown. Given that no explanation was tendered for Ms O'Connor's behaviour, perhaps she is an indication of where it has spread to?
Family hit out as pet cat is attacked again

A CAT owner has heen left distraught after her long- haired pet has repeatedly come home with pieces of its fur shaved off. Pam Dale first noticed that her tom cat, Gray; was coming home with patches of shaved fur around 18 months ago. The problem stopped after about a month, but recently Gray was shaved again and the practice has continued. The cat is now regularly coming home with small patches of shaved fur at the base of its back to the disgust of Pam and her teenage children. It's got to stop.

I have no idea who's doing this or why You can tell it's not done with scissors, it's really short, like when they go to the vets for an operation," said Pam, 35. I think they're using clippers or a razor, and the last time they've done it they've actually cut him too. "He's not the kind of cat that would just come to you, so they'd have had to lure him in with food and pin him down. He's coming home quite distressed. I can't really keep him in, he wants to go out, he's used to going out." Pam has lived on Hyde's Church Street since the mid 90s, and although she has several other pets, only long- haired Gray is being targeted. She is also puzzled by the fact that Gray was left alone for more than a year before the ordeal started again.
"It makes me angry What right have they got to take fur off my cat? I'm at my wit's end and I don't know what to do." The problem has been reported to the RSPCA. Anyone with information can contact them or can call reporter Kate Weir on 0161 211 2829.
Picture by Gary Louth

A CAT may have regretted his taste for the high life after getting stuck up a tree for FOUR days. Mischievous Spike had been missing for threee days when owner Anita Millar heard his plaintive meows from the top of the tree outside her house. With him stranded in the branches more than 30ft off the ground, she tried but failed to coax him down with a saucer of milk and treats. Finally she phoned the RSPCA and fire service but was told it would be another two days before they could come out so decided to take the matter into her own hands.The drama unfolded on Wednesday at Anita's home on Leech Street, Ashton, which she shares with husband Alex and daughters Natalie and Jennifer.

After calling out a local roofing firm only to find their ladders wouldn't reach, she contacted a tree surgeon who climbed up and was just inches away from rescuing Spike when the petrified cat jumped, landing in a neighbour's garden. Anita, 48, said: "He ran off but about 20 minutes later he jumped through the window and he was absolutely fine apart from being filthy! "I think it was just the final straw for him, the guy walking up the branch towards him. I think it was just sheer terror that got him down in the end." Although it was a happy ending for Spike, Anita - who has four more cats and dogs - has criticised the RSPCA who say they only respond to such requests 48 hours after the call being made as cats invarinbly come down by themselves. Similarly firefighters only attend when asked by the RSPCA. She also thanked HSS Hire Shop for their support and North West Tree Care who came out free of charge.