NEWS
THE ADVERTISER, THURSDAY, JULY 3, 2008
VOLUNTEERS NEEDED TO HELP TEND GREEN SITE OF SCIENTIFIC INTEREST
Secret garden is a hidden gem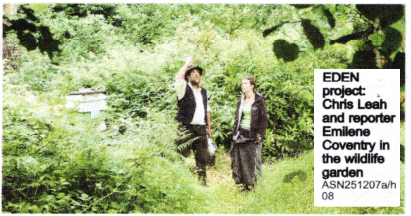 by Emilene Coventry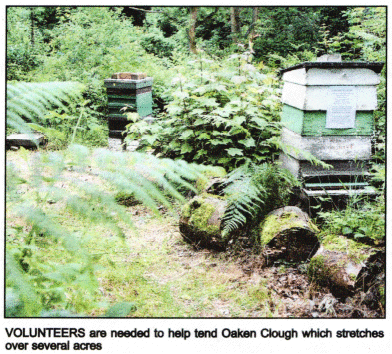 NATURE lovers are needed to tend a secret wildiife garden tucked away off an Ashton main road. Just yards from the busy Oldham Road, the garden on Oaken Clough Terrace is a peaceful haven of mature oak trees, wild flowers and animal and bird life.
It was left to the Medlock and Tame Valley Conservation Association by conservationist Mildred Burlinson, who died in April. She bought the house around 18 years ago because of its several acres of garden so that she could transform it into the wildlife haven it is today.
Chris Leah has been doing his best to maintain the leafy retreat but needs volunteers to help beat the brambles. "It all needs maintaining so it doesn't get overrun," he said. "I try and do as much as I can but we need more people." Mrs Burlinson created the garden as a series of different habitats. There is a stream, ponds, a bog garden, wildflower meadow, bee-hives and a bramble and nettle patch.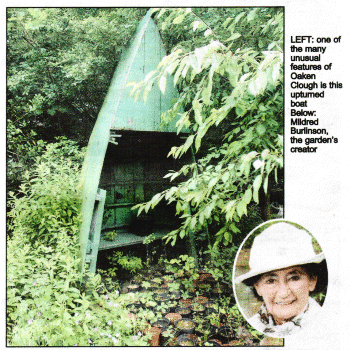 Piles of brushwood provide a habitat for hedgehogs and insects, as well as nesting material for birds. Designated a site of biological importance, the garden is home to the rare stag beetle and great crested newt, as well as foxes and wrens and native butterflies the holly blue, brimstone and purple hair-streak. Chris said: "It's like a paradise. It's brilliant to have somewhere that's just for wildlife such a short way from the town centre. Mildred reckoned she even saw a badger here once." Anyone interested in volunteering should contact Chris on 07931 952037. Or go to the next meeting of the conservation association at 5 Oakenclough Terrace on 16 July at 7pm, when Paul Lythgoe from Oldham Beekeepers' Association will give a talk.
*Note that the MTVCA meet most Sundays at 5 Oaken Clough
---
Risen from the waters!
SOUTHAM BARGE LOVINGLY RESTORED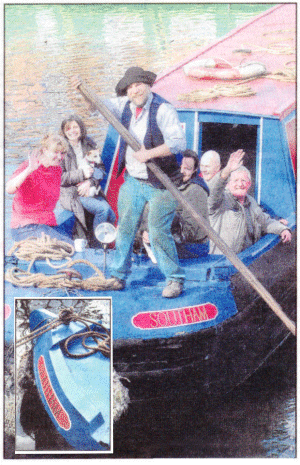 A SUNKEN narrow boat has set sail once more after being rescued from watery grave and restored to its former glory. Southam fell into disrepair and sank in 1992 but she was given a new lease of life after Tameside Wooden Canal Boat Society gave the stricken craft a loving home.
Festival
After years of hard work and tons of elbow grease, the boat bid bon voyage once more from Portland Basin with a band of volunteers and boatman Chris Leah at the helm. It chugged its way along the the canal network to Ellesmere Port for the annual barge festival held over the Easter weekend. Chris said: "It's the culmination of more than a decade's work. So to see her back on the canal is fantastic. "I think some people who buy narrow boats are surprised that they require so much looking after. "Unfortunately the owners who bought her in the early '90s fell into that category "But spending three months underwater is actually not as bad as you'd think. "It's the mixture of air and water that causes the corrosion. There's no oxygen down there so the damage is limited. 'Amazingly when we first got her we managed to start the engine, which was astonishing especially after three months underwater. But it didn't last long and expired in a big cloud of black smoke after 10 minutes. "So the engine had to be totally rebuilt and new planks to replace those that had rotted away "It was originally a working boat and used to carry goods such as Iron and timber up and down the canal for the Grand Union Company "But it's always a special day when we restore a boat from scratch and put it back on the water."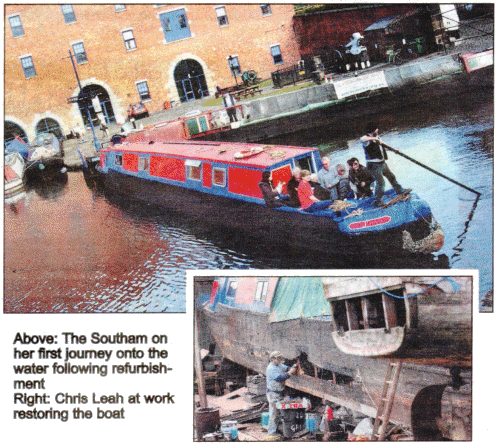 THE ADVERTISER, THURSDAY, APRIL 16,2009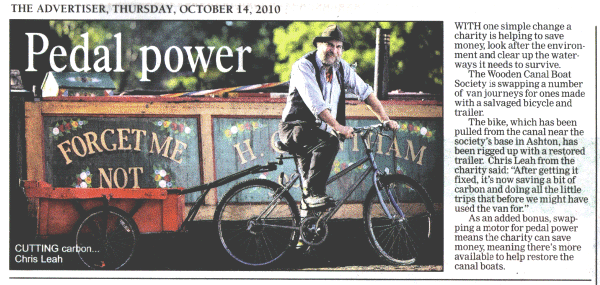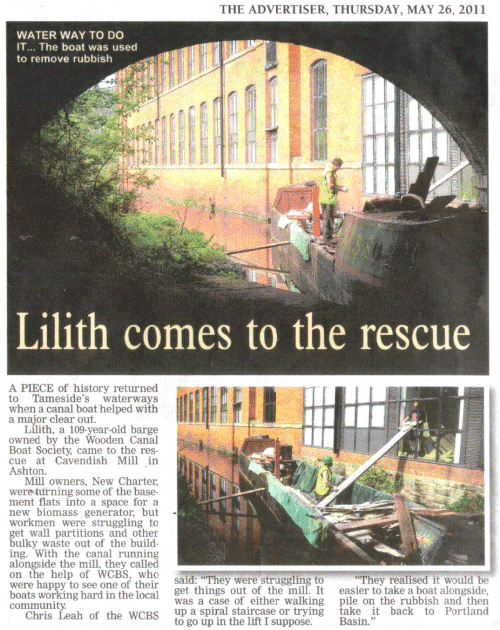 ---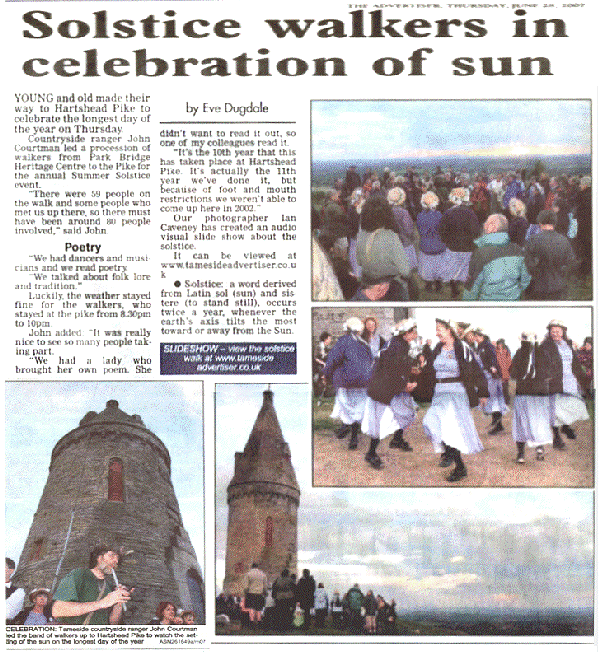 Tip plans opposed by residents
by Hannah Maysey
ASHTON MP David Heyes has slammed plans to build a rubbish tip on green belt land. Coal Pit Lane in Bardsley, which borders Ashton, is one of three sites suggested for a new tip for 'non-toxic residual waste' such as construction rubbish like bricks and cement.
Anger
But the proposal - put forward by Greater Manchester Geological Unit as part of the Greater Manchester Waste Development Plan - has met with anger from Mr Heyes, who says it will have a direct impact on local people. "There will be hundreds more heavy wagons on local roads because rubbish is going to have to he ferried into the area from all over Greater Manchester," he said.
"There will definitely he a big increase in traffic and I think that's one of the main concerns for residents in Tameside." Local resident Doreen Morton, of Oaken Clough,Ashton, added "The consequences of this proposal for tipping are absolutely horrendous. The area was designated green belt land years ago and it is a major recreational centre for surrounding towns. "A lot of effort, time and money including a considerable amount of voluntary effort goes into preserving this well known beauty spot"
Two other sites have been suggested - Highmoor in Saddleworth and land at Vicars Hall Lane in Salford - both of which are already non hazardous landfills which would have to be extended.Tipping at the chosen site would begin in 2012 and last for 10 years. Bosses at - Greater Manchester Waste said the project was still in its 'very early stages' and that no decision would be made until after the consultation period ends in May.
For more information go to www.gmwastedpd.co.uk and click on JWDPD core documents.
---
Picnic protest over golf club land sale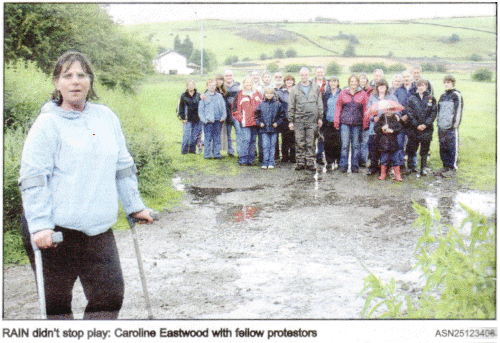 by Tom Rowley
RESIDENTS staged a picnic with a purpose in a protest over a possible sell-off of green space. Sunday's event at Waldorf fields in Hyde aimed to draw attention to the proposed sale of she Tameside Council-owned land to Dukinfield Golf Club.
Caroline Eastwood, organiser of the protest at the site off Matley Lane, said: "It went really well, I could not believe that 50-odd people turned up. But then the heavens opened - I think somebody was doing a ritual dance somewhere!
"We stayed for about one- and-a-half hours. It rained a bit then it rained a bit more, it was quite torrential really. Then we all went to the pub.
"We're going to have another picnic in a few weeks after we've arranged a meeting." She added: "The concern is why is Tameside Council selling off community land without informing everyone. The only public notice was in one paper which not many get, unlike the Advertiser which everyone gets."
Objectors point out that the land was donated by Newton Mill Limited in 1973 with a covenant, which stipulates that it be used for recreational purposes by the people of Hyde. A council spokeswoman said: "The golf club has approached the council with a view to exchanging an area of land to facilitate improvements to their existing facilities. This has involved extensive discussions, which have been ongoing for some time and have provided for the continued provision of open space for the use of the general public, including all existing footpaths.
"We posted a public notice of the proposal, as required by the Local Government Act 1972 when dealing with the potential disposal of public open space, in the local press earlier this year and again at the end of April to invite comments or objections.
"The consultation period for any comments/objections closed on 29 May.
'All comments/objections received will be included in a report which will go to the cabinet deputy, who will subsequently make the final decision over whether the proposed exchange is to be progressed." [Advertiser July 3 2008]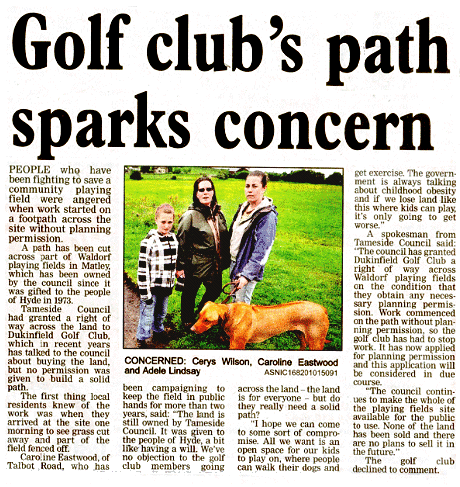 ---
THE ADVERTISER, THURSDAY, NOVEMBER 5,2009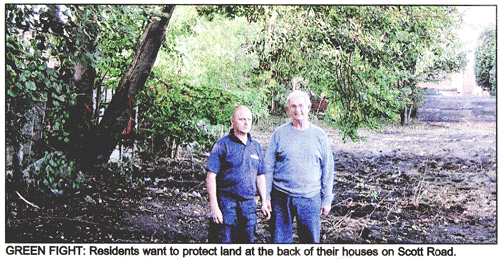 Residents in fight to save beauty spot
by Tom Rowley
ESSENTIAL Metrolink work is putting a green haven in Droylsden at risk. Residents are up in arms over the loss of trees at the back of their homes on Scott Road.
They say previous owners have neglected the land and admit that while they have extended their back gardens, they face losing a much-loved beauty spot and some trees have already been cut down.
Mick Martin, 64, who has lived in his house for 12 years, said :"We looked at several properties before we bought this one but the wife kept coming back to here and the main reason was the beautiful trees. They are mature trees and replacement ones will take years to grow."
Neighbour Arnold Ford, 49, and his family have lived there for 11 lyears. A wall facing the site became dangerous seven years ago with the roots from undergrowth breaking through the brickwork.
"We reported it to Norweb at the time but nothing was ever done," he said. "Now they want to dig up the boundary wall to put cables down, but this will mean chopping down the trees. But it's not just the trees - foxes, bats and other wildlife live there too."
A spokeswoman for United Utilities said Electricity North West Limited (ENW) - previously part of United Utilities but now run as a separate business - owns the land at the back of Scott Road and the electricity network in the area. "The land at the back of Scott Road will be used as the route for diverting essential high voltage electricity cables in preparation for the new Metrolink extension," she said. "United Utilities is carrying out this work on ENW's behalf. "Although there are no plans for the land at present, it may be developed in the future, so the most appropriate route for the cables is around the perimeter close to Scott Road and Shelley Grove.
"However the land has been vacant for around 40 years and we understand that local residents have got used to this situation, in fact some have substantially encroached their gardens into this land. That is why we met with them and local councillors to explain the plans. "It was a useful meeting and we are reviewing residents' concerns in our ongoing discussions with ENW while the route of the cable is agreed.
Time to bid for cash from trash
COMMUNITY groups in Tameside are set to share a cashpot of almost £1m thanks to the recycling efforts of residents. Tameside Council has saved around £960,000. through its collections of paper plastic, metal and glass. Now groups such as scouts, sports or church clubs are being invited to bid for a chunk of the money which will be handed out over the next three years.
Cash from the 'community chest' can be used for anything from buying new equipment to building repairs. Successful applications will be decided by a panel made up of representatives from community groups and local councillors. Government targets say 30 per cent of rubbish must be recycled by 2010, rising to 50 per cent in the future, or councils will be hit with huge costs to bury it in landfill sites.
Tameside is already well on the way with current figures showing that 35 per cent of waste is being sent for recycling each week. Council leader Roy Oldham said: "This is a win-win situation for everybody as far as I am concerned. We are consistently telling our residents how well they are doing when it comes to recycling their household waste and here's the proof.
"Handing the money back to community groups should encourage more residents to recycle and mean less waste going to landfill which benefits everyone.
"I would encourage everyone to get involved whether it be a member of a panel deciding on how the money gets spent or by putting in an application for thing that would benefit locality"
To request an application form visit www.tameside.gov.uk/haveyoursay or call 0161 342 8355. The closing date for applications is 6 November
---
THE ADVERTISER, THURSDAY, OCTOBER 29,2009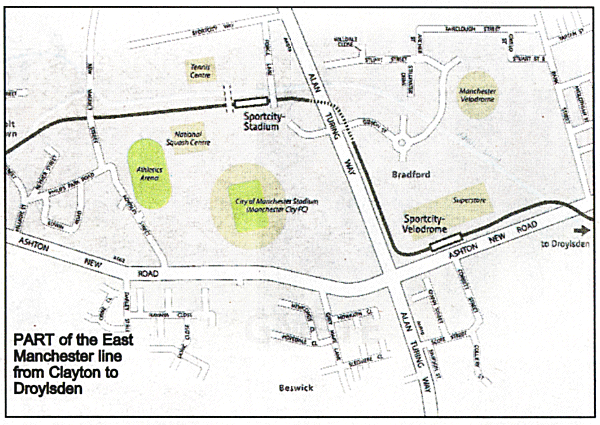 Kate Weir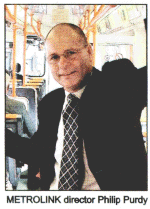 THE director of Metrolink has reassured people that they will soon see the benefits of the disruption in Droylsden. In an exclusive interview with the Advertiser; Metrolink's director Philip Purdy reassured people that while things may be difficult now, the improvements the new trams will bring will soon outweigh the disruption.
"The existing Metrolink lines have been very successful in Manchester and we're going to have 40 more new trams," said Mr Purdy "It can be a bit frustrating from some people's point of view, but it is work that has to be done and we think it has been done in the best possible way.
The benefits will come but we've got to go through a bit of pain first." Since February; when work began in Droylsden to divert utilities and upgrade gas and water mains, many residents, business owners and commuters have complained of long delays, problems crossing the road, a decline in business and noise and dirt from the works.
Mr Purdy defended Metrolink's track record on letting local residents and businesses know what is coming up in the construction work, but added that it's not always possible to let everyone know or get everyone to understand.
"When it starts to affect people we do try to get as much information out there as we can, but I'm not going to say we always get everyone, we're always going to miss some people. "We go to district assemblies and have regular briefings with councillors.
"Local businesses are very important. We go around to talk to all our businesses in the area so that we can try to understand their needs!" He added that if any businesses believe they had a case for cornpensation as a result of the damage caused by the work, it would be considered if they made individual representations to Metrolink.
"The Metrolink is about moving more people. You can be in a queue that's 20 to 30 cars long, and if you count the number of people in those cars, it. averages at about 1.1 per car," he said. "If people took the tram instead, it's the equivalent of something like half a kilometre of road space that would be taken up by cars. "The tram is not affected by congestion as it runs on its own tracks down the street," The Metrolink extension to Droylsden, costing £600m, is due to open in spring 2012 and will run to Piccadilly via Clayton and Eastlands.
To view maps of the route, visit www.tamesideadvertiser.co.uk.
---
We don't need trams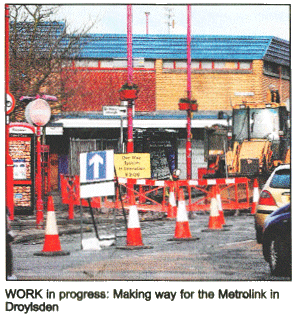 I READ Mr Philip Purdy's letter (5 March) regarding keeping the residents of Droylsden informed with the progress of the Metrolink, but can I ask him just one question: why do we need a Metrolink?
Droylsden already has two adequate bus routes to Manchester and Ashton with the 216 and 231. If it was deemed necessary to have another alternative method of public transport, why not re-open Droylsden railway station?
This could have been achieved with less inconvenience, less disruption and, more importantly less expense. As far as I can make out, only Tameside Council is in favour of this venture and has pushed this through regardless of the views of the people. This money could and should have been spent on helping local businesses and rebuilding that ugly monstrosity of a precinct and repairing the poorly- maintained roads and footpaths (you risk life and limb if you ride a bike in Droylsden).
I've lived all my life in Droylsden, but it makes me very sad to see the poor state it's in now I used to be proud to say that I lived in Droylsden, but alas no longer if this is progress I'm afraid I can't see it.
J MASON
Droylsden
Too much trouble for too little gain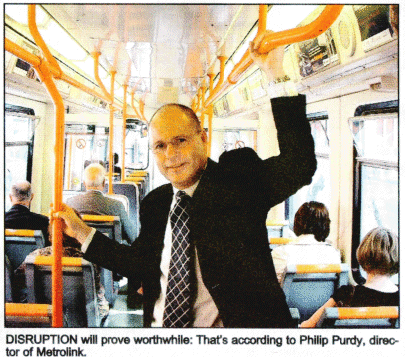 I READ with interest the comments from the director of Metrolink, Phillip Purdy, with regard to the continuing disruption from the roadworks around Droylsden. I find his comments somewhat amusing as it is ohvious that he doesn't live locally otherwise he would be as fed up as most residents are with all the disruption and and closures.
And what for? The bus service is more than adequate on the proposed tram route so why change things and inconvenience people for a service that no one seems to want? To also say that it will ease congestion is laughable.If he had travelled on Ashton New Road from Manchester during rush hour he would have seen that to put trams up and down that road is stupid as the road is not wide enough and will cause more problems than it will solve, aa anyone who uses that route could tell you.
I think Tameside Council should give a refund on our council taxbills for us having to suffer months of disruption for a service that for anybody living in the Littlemoss, Sunnyside and Moorside Street areas of Droylsden is no use unless you fancy a walk to the town centre.
Give up my car not likely!
CAROL GORDON
Hoppet Lane
Droylsden
WHAT has happened to National Tree Week this year in Tameside? The council usually mark the event (25Nov-6Dec)with treeplanting sessions, we already have so little land given over to teees in this borough and relentlessley cut down existing teees to make way for building development. By ignoring this event the council seem to be sending out the message that tree coverage is not a priority and have wasted an opportunity to raise awareness and redress the balance a little.

JANET WILDE
Stocks Lane
Stalybridge
IN answer to the letter from Janet Wilde of Stock's Lane, Stalybridge 'that Tameside MBC do not consider tree coverage a priority'. Janet is quite correct in her statement . Tameside allocate zero funding for street trees. Planting, care and maintenance is non existent. There are thousands of trees in Tameside that have been chopped down and the tree wells concreted over .This destruction of trees increases pollution, and stops jininediately the trees leading role in reducing carbon emission

J GRINT
HYDE
It's 10:10 for Tameside
North Road families ignored by council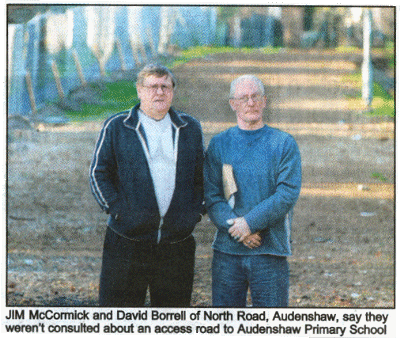 IN LAST week's edition my neighbour and I appeared in an article concerning the access road constructed outside our homes on North Road on the Snipe estate. As Penny Coles rightly reported, this road is to facilitate contractors' access to the new building project for Audenshaw Primary School. Although the report was fair in the main and we are grateful for the publicity there are a few things that need to be set right.
Firstly, a council spokesman claims a letter was sent out to residents in May. This is true but was done hastily in response to the petition and even this notice of intent was stuffed through letterboxes on the very last day before the bank holiday weekend before work commenced on Thesday again shutting off all means of protest. And, as reported, why is it that the residents on the Lumb Lane side of the estate all received letters of notification but we did not?
A further point is that a weight restriction exists on Snipe Road which limits vehicular access above 7.5 tonnes - because the estate sits over pit tunnels that used to serve the old Snipe Colliery. Would not any resident be concerned and alarmed over the prospective damage to their property and local environment? Last year the dust, noise and general disruption was appalling and if we are to put up with this for another 16 months or more the least the council could do is suspend or reduce council tax as compensation. Take up the pen, phone or e-mail and protest as loudly as you can over this issue.
DAVE BORRELL
North Road Audenshaw
---
RESIDENTS LAUNCH 'URGENT' CAMPAIGN TO PROTECT LAND FROM HOUSING

by Tom Rowley

RESIDENTS are fighting to preserve what they say is the only patch of green space left on their estate. New Charter had identified an area bordered by Bamford Grove and Hazelhurst Road in Ashton for housing. The site is half-owned by the housing trust and half by Tameside Council. But Hazelhurst Residents' Association has applied for village green status to keep the space for community use. However New Charter has objected and put up signs telling people to keep off the land. A public inquiry concerning the application is to be held. David Roe, chairman of Hazelhurst Residents Association, said: "With a nursery school just down the road, Rosehill Primary School and many elderly people on the estate, the village green would be an ideal place to go on nature trails and walks, or just to sit in a seated area - of which presently there are none - and enjoy fine weather or a leisurely stroll. "Some of the community have used the area for 20 or more years to walk their dogs, meet with friends, fly kites, use remote control toys, or just to kick a football.

"The need is urgent to protect this green space in an area with so many buildings and such a large community.Many think it is a tragedy that the land is now being identified for housing and recently signs have been put up by New Charter stating the ground is not to be used by the public. "We have applied for village green status as this is the only remaining green area in the estate, to protect it for the existing community and future communities.
"We are keen to hear urgently from anyone who is in support of this application and hope that all residents - young and old alike - will make their voices heard. The more support we get the better" A New Charter spokesman said: "We applied and were refused planning consent on 10 September 2003 to build nine houses, four flats and a disabled person's home on two plots of land we own at Hazelhurst. We have decided not to appeal against this refusal. "The application made by residents for a village green includes this land and a much larger area, some owned by ourselves, some by Tameside Council. We have objected to the village green proposal and there will now be a public inquiry" A council spokeswoman confirmed a public inquiry will be held in the new year.
Residents wanting to get involved in the campaign can phone the association on 07597902976, email hazelhurstres@yahoo.co.uk or write to the association c/o The Junction Inn, Mossley Road, Ashton. [Advertiser Nov 19,2009]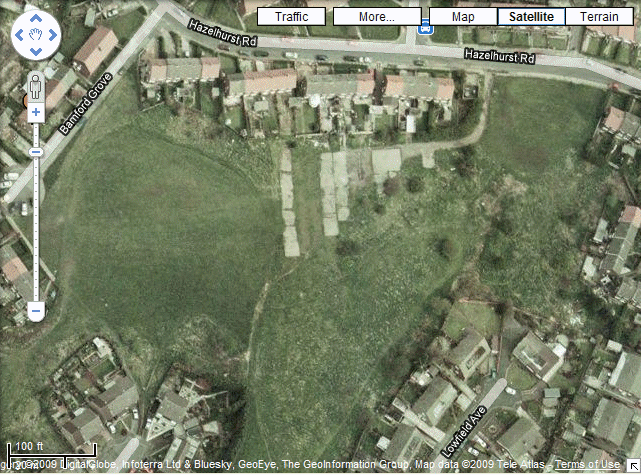 ---
ECO 'HUTBREAK'

BY CALLUM WILSON

THE curse of Friday 13 struck a Tameside green group when mindless vandals burnt an eco project to the ground. The Mount Community Group in Stalybridge aim to transform the derelict area with an ambitious eco-friendly homes plan, including a community garden space and ecologically driven, self-build housing project and community centre.

But the straw-bale structure they had been building as part of their efforts was cruelly torched on Friday evening. Emergency services were alerted shortly after 7.22pm when fire crews from Stalybridge and Ashton were called to the scene but were too late to save the structure from being burnt down to its foundations.The destroyed building bad been designed as a meeting place and storage facility as well as a test of the group's means and methods. It had been hand-built by a small group of local volunteers using reclaimed timber and straw bales with clay render cladding, with Whitehead's Timber and Benchmark Building Supplies generously donating materials to the group.
Deramore Hutchcroft, Chair of the group said: "We have put so much time and.effort into this project onty to see our hard work ruined by thoughtless vandals "The ethos of the whole project was to develop something truly positive to the benefit of the whole community, but the actions of the few have spoilt it for the many. "I doubt whoever did this had the slightest consideration of how much hard work we put in or what we were trying to achieve, "While this is obviously quite demoralising, we are determined not to let this stop us and will rebuild the hut and press on with the project."
The fire also forced the nearby Revival Church to evacuate, abandoning its Lighthouse Cafe programme that provides free meals to the homeless. The fire meant those working at the cafe and those there to receive a hot meat had to stand outside for more than 90 minutes in the cold and the rain while firefighters made the area safe. The church itself also suffered smoke and heat damage to the rear wall with several windows cracking from the temperature.
Lee Wright, who helps run 'The Lighthouse Cafe' said; "We had about 15 people in for the meals when one of the ladies said she could smell smoke, 'We knew nothing was burning in the kitchen and then we saw the light from the back coming through the windows, "We called the fire brigade and got out of the church as we were obviously worried that it might also catch fire, "We just had.to load the food onto paper plates and get out, "It's a reat shame for the group because I know how much work they and Deramore had put in,"
The group are now appealing to local companies and members of the communlty to help in any way they can, either by donating building supplies or helping with the reconstruction, if you would be interested in getting involved with the project contact Deramore on 07590557381 or by emailing deramore@gmail.com
| | |
| --- | --- |
| | |
---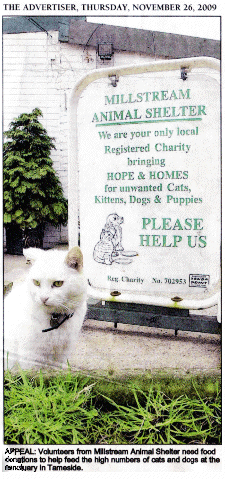 Please help shelter to keep their kitties full
AN animal shelter has just a few days worth of food left for its anlinals.
Millstream Animal Shelter based at Clayton Bridge - has around 100 animals under its roof, but volunteers are now appealing for extra donations of food as too few people have come forward to help rehome the pets.
"At the moment we've got about two days' worth of food," said Sheila Cheetham. "We've got so many animals at the moment. We've got about 14 dogs and the rest are cats. Mainly it's young cats, we re getting the teenager cats, people get them as kittens in the summer, but they've been irresponsible and they've let them get out, they've got lost and they haven't gone out to look for them."
While the collection boxes for food have all been filling up, it is a higher than normal number of catsand dogs that is causing problems.
"Not so many people are coming forward to rehome the pets, keeping pets is expensive, and maybe younger people who might previously have had pets are now in flats." Sheila said.
She also encouraged those who have pets to make sure they have them neutered - for which disoounts are available to those on a low income.
Anyone who has donations for the centre, especially wet cat food and kitten food, can drop them off at the shelter or at their shop on Oldham Road in Ashton.There is also a collection bin situated at Morrisons in Dukinfield. For more information call 0161 683 - 4194.


Shelter running out of food

AN ANIMAL charity is appealing for help to feed its waifs and strays.
Tameside Animal Shelter celebrates its ninth anniversary this week but food supplies for its residents are running low.
With around 70 cats tb feed, the shelter is asking readers to help with donations of food and cat litter
Jeanette McGraw is manager of the rescue centre on Raglan Street, Hyde, and says the number of homeless cats is set to soar even further in the coming weeks.
She said: "The kitten season is well underway and on top of the 20 we currently care for, several of our girls are also due any day
"Kittens need extra nutrients to grow into healthy happy cats but we only have enough food to feed them for a few more days."
The centre is open every day from 11am-5pm. Drop in with your donations or call 0161 368 3511.

KITTEN season: Volunteer Steven Robinson-Perry with two of the sheter's residents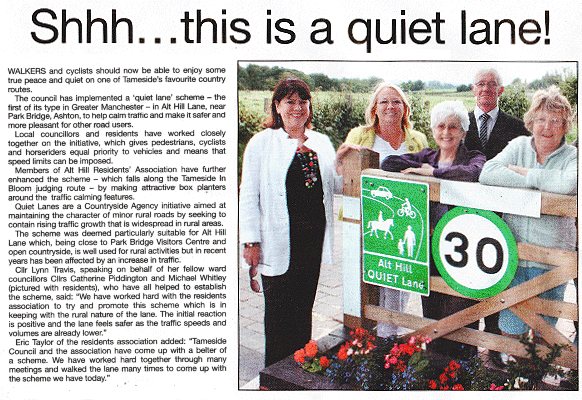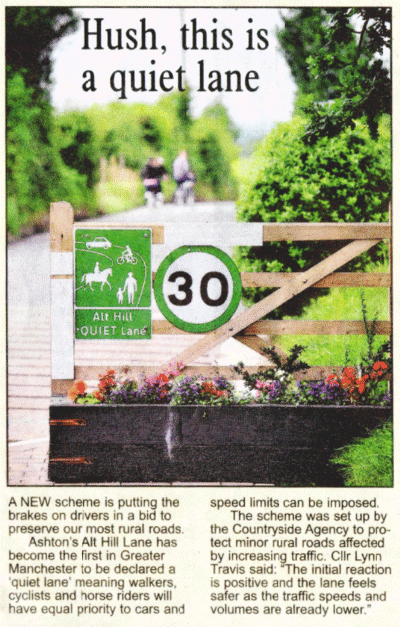 Time to tidy up cemetery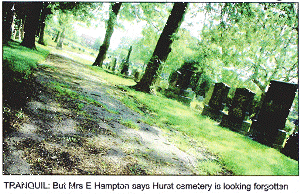 I HAVE gone to Hurst cemetery for the last 30 years to tend the lawned grave of my parents. Each time I go I get more upset that I made a mistake in having my parents' ashes interred in Hurst cemetery. At first it was a pleasant well-kept area. Now I wonder if it is a lawned area or just an overgrown and forgotten place. Grass is ankle high and when cut is left in big clumps to rot. Weeds grow freely around headstones and rubbish lies everywhere. The wire rubbish baskets are overflowing and it just blows everywhere. I've spoken to those responsible for the cemeteries on a number of occasions. In return I've had various responses, the latest being 'we employ contractors for the cemetery work' or 'the weather has held them back.' I thought if contractors didn't fulfil ther obligation the council would look at why our money is being wasted. I know we can never change some people's behaviour, fine notices do not prevent them allowing their dogs to foul the graves. But isn't it about time someone at the council took ownership of this mess?
Mrs.E HAMPTON
Taunton Green
Ashton
Parks chief defends makeover of play area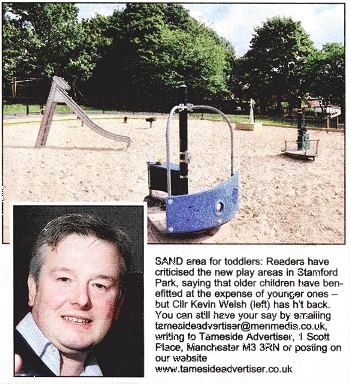 A COUNCILLOR has hit back at criticism of the new children's play area in Stalybridge's Stamford Park.
The playground was recently refurbished as part of a £4m makeover of the Victorian Park, putting in more equipment for older children.
But that prompted a packed postbag of letters to the Advertiser complaining there was now not enough for tots.
Cllr Kevin Welsh, who lives nearby and brings his own children to the park, is responsible for managing play areas and parks in Tameside.
He said: "We wanted to provide equipment for children of all ages and abilities so as youngsters grow, there will be something for all.
"There is equipment for younger children in the sand area including turning tyres, a slide, listening posts and a water pump. Shortly a new roundabout and sand-diggers will be installed. There are also two swings suitable for toddlers and we are considering increasing that number.
"One of the main complaints we used to get about the playground is that there was nothing for teenagers.
"Older children have, among other things, a pyramid slide, basket swings and climbing frame."
He added: "I have fond memories of the little train but it was well past its sell by date and we really did need to renew the equipment.
"When we did the launch I was talking to a number of parents who had travelled from all over the place and they thought it was fantastic."
The Heritage Lottery Fund announced in 2009 that Stamford Park had been chosen for a multi- million-pound makeover to bring back some of its Victorian charm. Work will include building a new pavilion with cafe, meeting rooms and a performance area and rejuvenating the promenade.

Rubbish ruining park's duck pond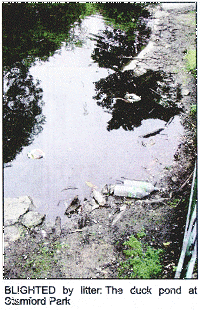 I AM disgusted at the state of Stamford Park duck pond.
I take my three-year- old son Reece nearly every week to feed the ducks and have witnessed the state of the pond deteriorating.
First it's been the overflow pipe and the concrete edging of the pond, even the railings of the bridge have been in disrepair (and have only just been fixed over the last couple of weeks). I have noticed that they have put a newer cover on the overflow.
The thing that gets me is that there is still tons of rubbish in the pond, including a traffic cone, and more appears every week even though there are two bins nearby.
I understand the upkeep costs money and they can't stop the vandals but seeing as though workmen have been around the pond doing minor repairs why can't they just take a few minutes to clear some of the rubbish?
I have climbed over the railings before now to pick up some of the bottles that have been flung in there but a maintenance worker told me I'd have to climb back over for my own safety and that it wasn't my place to clean it up.
I have taken my son to the newly built play area at the top of the park and I think it looks wonderful, but the pond is slowly going down the drain.
All my childhood I can remember going to that pond and can't ever remember it being in such a sad state.
TONY THORPE
Dukinfield

No adventure in park's makeover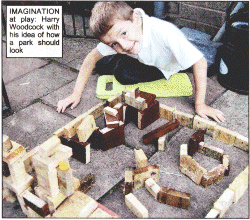 IN response to your story 'Parks chief defends makeover of play area' (Advertiser, September 9) I wanted to add a few things. For a start the picture in the story tells it all, a vast area of sand with isolated small equipment. The things there now are what should be extras, side elements to the main event. Where's the adventure? I get the feeling there were bigger plans but it's been cut back, spread out and filled in with sand. I also agree with other readers who have mentioned the lack of seating around the park. A lot of people were going into the bowling greens to sit down for lunch. The forthcoming new pavilion and cafe sound, great and tie junior park is pretty good. The only thing I would say is why build the zip wire over grass instead of bark? It's already a muddy quagmire. I've sent an image of a park my six-year-old son Harry made out of bits of wood. It's a bit crude but it's got a secret tunnel leading into the park as well as a main archway entrance with a jewel on top a maze, a large roundabout, a see-saw and adventure climbing wall. It's got one thing I think the Stamford Park toddler section lacks. Imagination.
OLIVER WOODCOCK
Audenshaw
Our toddlers want more to play with
THE offer to the toddlers at Stamford Park has diminished since the refurbisment. The toddlers' play area is sparse, uninviting and devoid of any fun. It lacks colour and and imagination. There are fewer swings, no climbing areas, no see saw and no larger climbing frames or larger items that encourage social play. I appreciate that the concept is to provide play for all, but it appears that the toddlers have been short changed and as such the numbers of toddlers playing at the park will inevitably reduce. Come on Tameside Council, get your hands in your pockets and reintroduce some colour, interactivity and vibe back into the play area. It's not weak to admit your mistakes.
ANDREW McLAREN
Wilson Crescent
Ashton
Please listen to parents
I AM writing in response to your article 'Parks chief defends makeover of play area' (September 9). Cllr Welsh says most complaints came from parents of teenagers. I said in my original letter that the area for teenagers had been greatly improved but they are not the main users of the park, pre-school children are because they go to the park 52 weeks of the year - weather permitting - not just in the school holidays. Cllr Welsh has kindly listed what he has provided for toddlers. There has always been a sandpit for children, but the original sandpit has been filled in and a hill created unon which the baby swings stand. The sandpit has now been placed where the play area for young children used to stand, in effect scrapping the play area for young children. Why? He is also insulting the intelligence or parents (some of whom will have probably voted for him, myself included) because the sand diggers, listening posts and platforms were originally in the old sandpit so they are not new. The train, ship slide, seesaw, rocking bikes, roundabout and sand platform have been replaced with a metal slide which is far, too steep for young children, a red plastic roundabout that has nothing to hold on to, three tyres and a water pump that doesn't pump water. Where are the items for imaginative play? It's not just toddlers who are affected, it is also children of primary school age. A lot of primary school children are being really intimidated by teenagers. The other day when I went, three 20-year-old lads were sat drinking cans,writing graffiti and swinging on the basket swings. I would challenge Cllr Welsh to go to the park and speak to parents again, listen to what the public are saying.
W SCHOFIELD
Stalybridge
Wildlife at risk from more homes
I WRITE in connection with a recent planning application for a number of houses on land at Staley Millbrook Cricket Club. Associated with this is an application for extending the cricket club itself.
My husband and I moved into our property in October 1994. We moved there for a number of reasons, but primarily because it is in a conservation area and we enjoy the wildlife and the meadows.
The first few years were lovely just what we had hoped for - nothing but fields across the valley walks galore, and hardly the sound of motor vehicles.
Since then many of the meadows we moved in to enjoy have'been sold and have given way to a Lego-land style housing estate. We now look out onto a vista of a couple of hundred red brick monstrosities.
Now this application threatens to add insult to injury by taking away what small amount of 'green' we have left to make way for yet more houses.
I am running a campaign and leafletting in the village to oppose this plan.
The small amount of remaining land has been used as common land for many years and taking it away would have an adverse affect on the community not to mention the flora and wildlife including the colony of bats living in the nearby mill.
Mrs JANE E SLATER
Stamford Street
Millbrook