NEWS
Subject: Larry the honorary sheep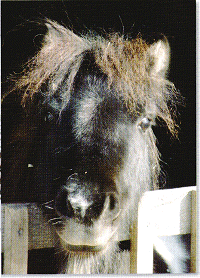 In June we received a call from a local farmer who had a small skewbald pony living with a herd of sheep in his field. The pony had been found wandering on the road and with the help of the local police, the little pony was herded into his sheep field for safety, hoping that the owner would come forward and claim him.
Time went by and no-one came forward, the pony turned out to be a stallion colt. The farmer contacted Bransby to see if we could take the pony, otherwise he would have to be shot. The Rescue team went out and found the pony was smaller than some of the sheep! He was hard to spot amongst them as being skewbald (brown and white) he mingled in brilliantly with the sheep as they were a mixture of black and white breeds.
Although the field concerned was only approximately two acres, it quickly became obvious that this little fellow could give our staff, and the farmer, the run around. It was a very hot day and there are only so many times you can run across a field only to have to turn around and run back again! It soon became clear that the pony had previously experienced little, if any, human handling. The farmer went to rally more help and hurdles to make a pen, and whilst we were waiting, Gemma, a relatively new member of staff, placed food on the ramp and along the floor of the waiting trailer. Everyone was gathering strength for round two, when two of the sheep started eating the food and stepping into the trailer! Unbelievably, after that, the pony, (who had been named Larry at this point, as he obviously thought he was a sheep), very hesitantly began to eat the food. You could have heard a pin drop as the staff patiently watched Larry contort himself in an effort to eat the food, without having to step on the ramp!! Eventually, after what seemed like a lifetime, step by step he ventured into the trailer. Result! The only snag was that two of the farmer's sheep were also inside the trailer! Fortunately, for all concerned, the two sheep were very obliging and stepped out the front jockey door!
Larry returned to Bransby where he was able to start work with Garry Bosworth, our Humane Handler,to introduce human contact and build up trust. This will be ongoing work, but as Larry is young, he is willing to learn.