Hide
Phase 1: Preparing the Ground
Phase 2: Building the supports
Phase 3: Erecting the Hide
Phase4: Official Opening
---
Phase 1: Preparing the Ground
| | |
| --- | --- |
| | Ground is cleared and earmarked ready for the hide. |
---
Phase 2: Building the supports
| | |
| --- | --- |
| | Jay Quinn helps remove the tarpaulin after Winter. |
---
Phase 3: Erecting the Hide
| | |
| --- | --- |
| | Paul Lythgoe and Paul Heaton constructing the hide. |
| | Brian and Paul hold together a corner. |
| | |
| | |
| | Nearly finished! |
Bryan Stringer, Paul Lythgoe, Jean Lythgoe, Judith Wood, Jay Quinn, Katie Caine and Susan Stewart arrived at "Burlinson House" around 10.15. The main event was to put the hide in place, which was one of our main outdoor projects of 2010.
While Jean, Judith and Katie cleared out the herb tablet and generally tidied up around the greenhouse, Jay and Susan dug the ground immediately outside the hide, in preparation for one part of the wildflower meadow.
Paul Heaton, Paul Lythgoe and Bryan carefully put the hide in place, after several manoeuvres. The foundations had been previously put in place by Paul Heaton so this saved a lot of time and effort on the day. All the weeks of waiting had come to an end and the finished product looked perfect. It will be an ideal place for artists/photographers and wildlife enthusiasts to observe what goes on in the woodland garden of No. 5!
The workday coincided with our Chairman, Bryan's retirement from work so we were able to take a break and celebrate with cakes, scones and other goodies.
More on the workday will be said in the next newsletter in April.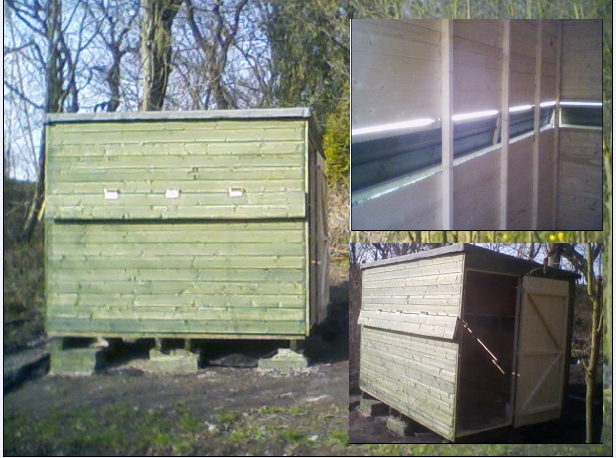 ---
Official Hide Opening 5 June 2011
We had a small (but quality!) crowd on this day of our official opening of the wildlife hide. All of the members attending came with feeders and seed but with the amount of birds we get around the woodland garden, we will probably be topping up in 4 weeks time! We met at the house at 2pm and proceeded to walk to the hide where some photographs were taken.
Thankfully it was a dry bright day when we began with the Chairman's speech. Bryan thanked the Duchy of Lancaster, whose funding helped to secure the hide. He paid tribute to Paul Heaton who put most of the physical work in to the foundations and sowing of the grounds around the hide. He also thanked David Borrell, who at short notice completed a shelf around the inside of the hide. The Chairman encouraged the members to use the hide, which would be kept open, to observe and record any and all wildlife seen. The members then made their way inside to sign the visitor's book and also looked at the lovely telescopic camera which our Vice-Chairman Paul had put inside.
After everyone had signed the book we walked up to the house for afternoon tea and lively discussion. The borrowing library was on display showing many donated books to us on the subject of mammals/birds/amphibians/fungi/gardening/herbs. A power point presentation on British mammals and the projects of MTVCA was looped throughout the day.
A memorable day enjoyed by all to celebrate the completion of this important project which will hopefully be enjoyed by all!