Facebook boast of cat-killer schoolboy
by John Scheerhout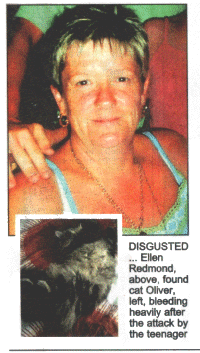 A SCHOOLBOY who got a sick thrill from punching a cat to death ended up in court - because he was caught boasting about his attack on Facebook.
After the 15-year-old launched a fatal assault on the animal, he wrote on the social networking site: "How ill was tht dig when I dropped tht cat B4. Hahaha."
Later he wrote: "I booted it in the head."
The youngster attacked a 12-year-old moggie called Oliver in the street, punching the animal in the head.
The pet managed to stagger back to his home on Ashdale Crescent, Droylsden, and climb onto an upstairs bed, unnoticed at first.
Later shocked owner Ellen Redmond, alerted by her son, found Oliver bleeding heavily.
She took him to a vet and the next morning he was put to sleep because of the severity of the injuries. X-rays showed the cat had broken his jaw-bone in three places and had three fractured ribs.
He was buried in the family's back garden.
The truth about how the animal was killed emerged when Ellen's 15-year-old daughter Amy checked Facebook and saw the culprit boasting about the attack. She copied the page on the website and showed it to police.
Officers arrested the boy who told the cops: "I'm sorry".
The youngster, who by law is too young to he identified, admitted a charge of causing unnecessary suffering to a protected animal by causing injuries resulting in its death.
Tameside magistrates referred him to a youth offender panel for 12 months and ordered he pay £425 compensation.
After the hearing, Mrs Redmond, 51, a mother of four; said: "This has knocked me sick. Oliver didn't deserve that.
"I'd like to confront him and ask him why".
"What enjoyment or thrill did he get out of it? I'd like to know what his feelings are about it now.
"Everybody is disgusted. Oliver was a tiny ball of fluff really. This has really upset me."
Mrs Redmond, who has another cat, Liquorice, and four rabbits, said: "My son came home from work and found Oliver on a bed upstairs.
"There was blood all over the bed. The vet said it was the kindest thing to put him down.
"He would have needed steel plates in his mouth. Basically he was in a terrible mess. It was absolutely heartbreaking."
The boy's mum has not responded to requests from our reporter for comment.

Cat thug should be named and shamed
HANDS up anybody who didn't cry reading about the horrific abuse of Oliver the cat (Advertiser, October 28). What kind of person would do such a terrible thing to an innocent little animal going about his business?
This 15-year-old should be thoroughly ashamed of himself and no amount of apologies could ever put things right. Maybe he will learn to have respect for animals while being in the young offenders' unit, but sadly I doubt it. I am not in the least bit surprised that his mother has not responded.
JACQUELINE WATCHMAN
Audenshaw Road Audenshaw
AS a member of the RSPCA and the Cats Protection League, I was shocked and disgusted at reading about Mrs Redmond's cat Oliver being punched to death by a 15-year-old moron. He should be named and shamed and his photograph published in the newspaper. He caused unnecessary injuries, the poor animal suffered and died a sad death. It is people in our societies who pick up these sad cases. We live in a sick world, JACK OGDEN
Can I offer my sympathies to Ellen Redmond and her family for losing Oliver (Advertiser, October 28). Sick thugs like that deserve to be shown what suffering they have caused for others. It's high time ignorant yobs like that were dealt a hammer blow by the police.
D L BORRELL
Bamford Grove
Hazelhurst Ashton