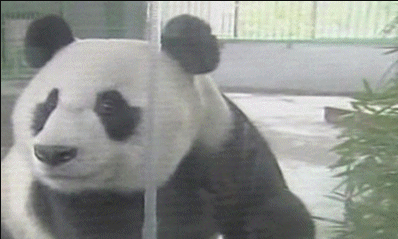 A man has been arrested after a panda died from inhaling poisonous fumes in its enclosure at a Chinese zoo.
Zookeepers discovered Quan Quan, a 21-year-old female bear, looking ill on Thursday but, after trying for hours to revive her, she died.
An investigation found she was killed by toxic fumes that seeped into her enclosure through an air-vent connected to an old air-raid shelter next to the Shandong zoo.
It transpired a mushroom grower had hired the shelter to breed the fungus and brought in fumigators to disinfect it.
But, in 1995, a vent had been drilled to help cool the panda enclosure in summer and this allowed the disinfectant to waft into Quan Quan's area.
A 48-year-old man was being questioned over the death by police, reports said.
The panda was a star attraction at Jinan Zoo since she arrived on loan from China's famed Wolong Giant Panda Research Centre in Sichuan, in September 2007.
She was hailed as a heroic mother for giving birth to seven cubs in her lifetime, a significant number for a species whose low sex drive has frustrated breeding efforts.
Reports of animals dying from starvation or poor conditions in Chinese zoos are common.
But the death of a panda is of greater concern because the endangered animals are beloved national symbols.
There are only 1,590 remaining in the wild, mostly in Sichuan, Shaanxi and Gansu provinces.
Another 290 are in captive-bred programmes worldwide, mainly in China.